Access: Products > Manage Inventory

Upon clicking "Export" button, a small window pops up with 2 selection:
1) Export All Products – Export all products with options  into the CSV regardless of any filter conditions.
2) Export Only These XX Matches – Export only specific products with options according to filter conditions.
Click "Export" button to download the CSV file.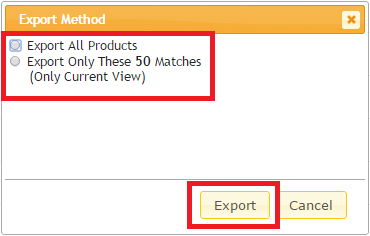 In order to use the 2nd selection, you will need to first filter the customers with a certain condition to export. The filter is located at the left of the page.