Access: Products > Add Products
It is very easy to create a new products, you just have to enter basic information of the product as below:
Title (Product Name)
SKU/Model
Weight
Price
Description
Quantity
Status
Then only you consider for additional information as below:
Highlight (mandatory for Lazada Sync)
What's in the box (mandatory for Lazada Sync)
Category / Manufacturer
Product Label
Dimensions (mandatory for Lazada Sync)
However, we will go through each of the functions so that you know more on how to create a product.
Product Details Box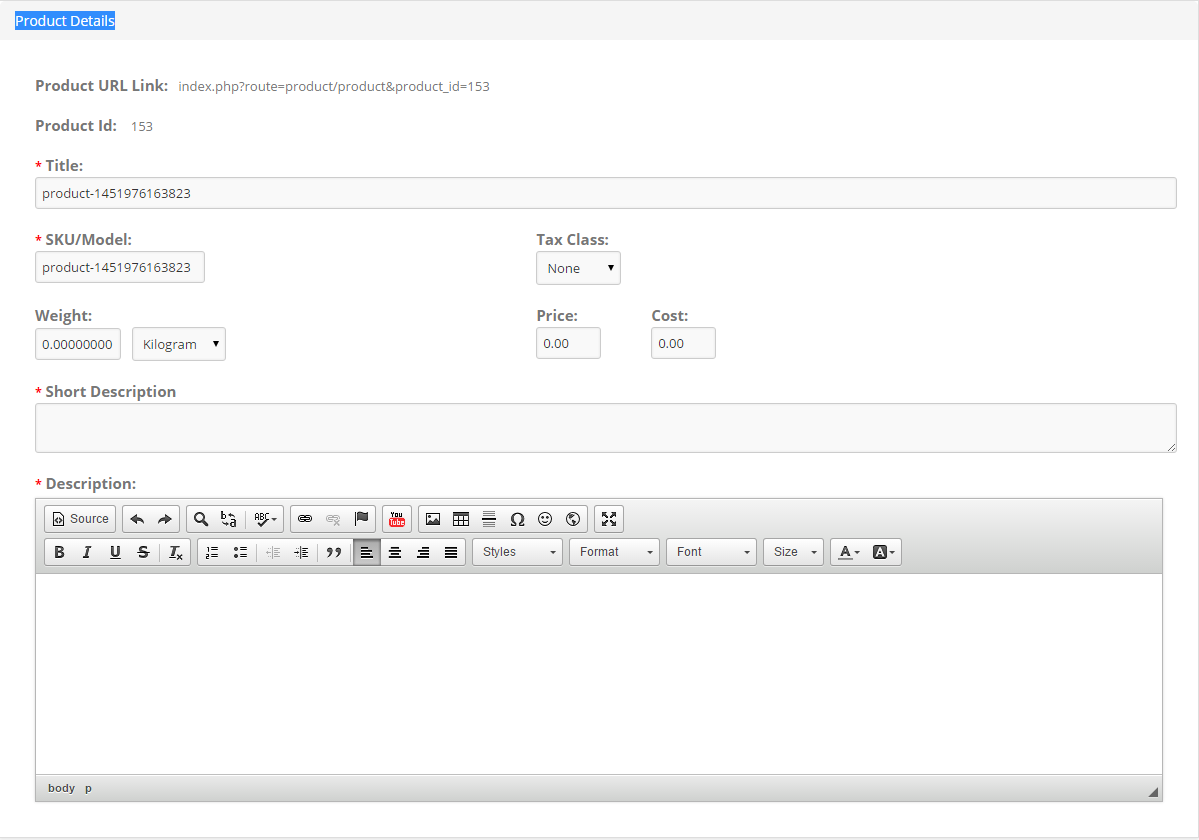 Title*:  The name of the product that will be displayed in front end. Suggest to follow by Brand + Model + Type / Attribute. For Example, Apple Iphone 7 32GB White.

SKU/Model*: The pre-defined identity code of the product which requires mandatory and unique,  it will be displayed in front end.

Tax Class: You can choose what kind of tax you want to apply for this product. For Example: GST 6%.

Price*: Price of the product.

Cost: Cost of the product, this cost is just for record purposes, it wont display in your front end.

Description*: The Description of the product that will be displayed in the front end, it can be plain text or html format description.
Highlight: The selling point of the product you wish to attract customers. It is mandatory field if you want to sync to Lazada.

What's in the box: The things customer expects to receive when receive the parcel. It is mandatory field if you want to sync to Lazada.
Visibility & Order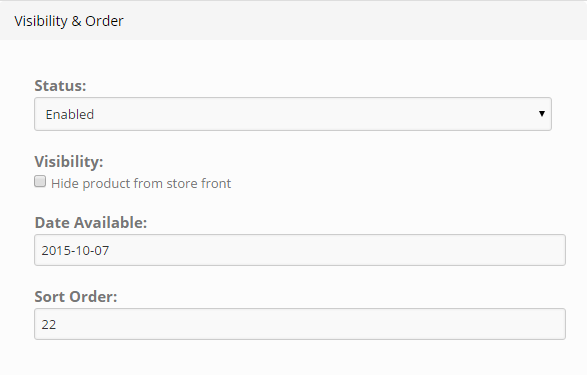 Status*: Enable it to launch the product.

Visibility: If you tick on it, it will only hide from front end, you are still able to perform manual order from backend.

Date Available: The date that this product is available for selling.

Sort Order: Indicates what sort order it will appear at the product page in the applied product category.
Grouping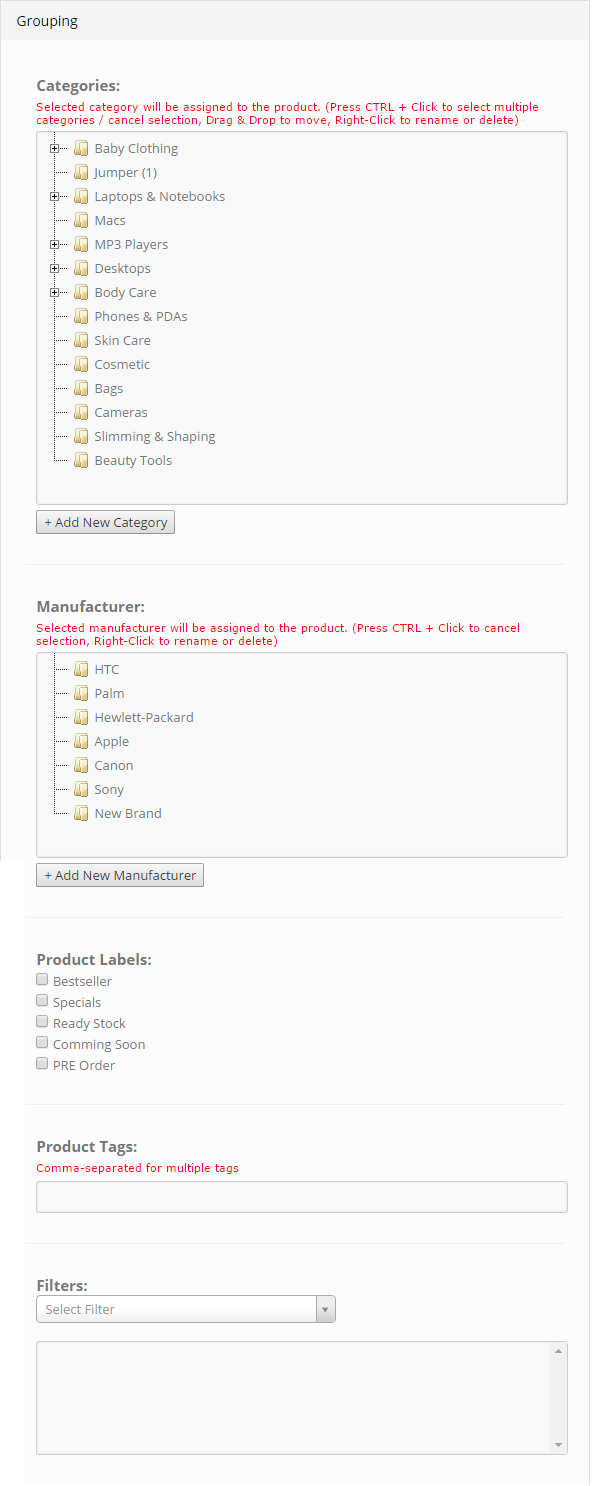 Categories: You can choose your category of the product or add/edit category here. You can apply more than one category for the product by pressing CTRL + CLICK on the category.

Manufacturer: You can choose only one manufacturer for your product or add/edit manufacturer.

Product Labels: You can choose only one product label to apply for this product.

Product Tags: Product tags are used to filter out the product that has the same tag. Function similar like Instagram hashtag.

Filters: You can refer on this page on how to use this filter.
Inventory & Variants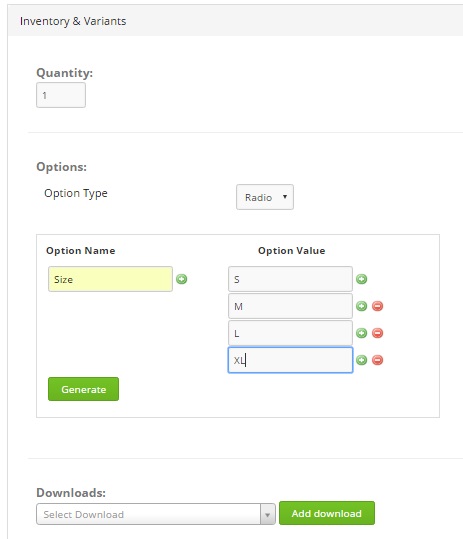 You may refer here for more information.

Downloads: Upload the softcopy product which is available to be downloaded such as eBooks.
Advanced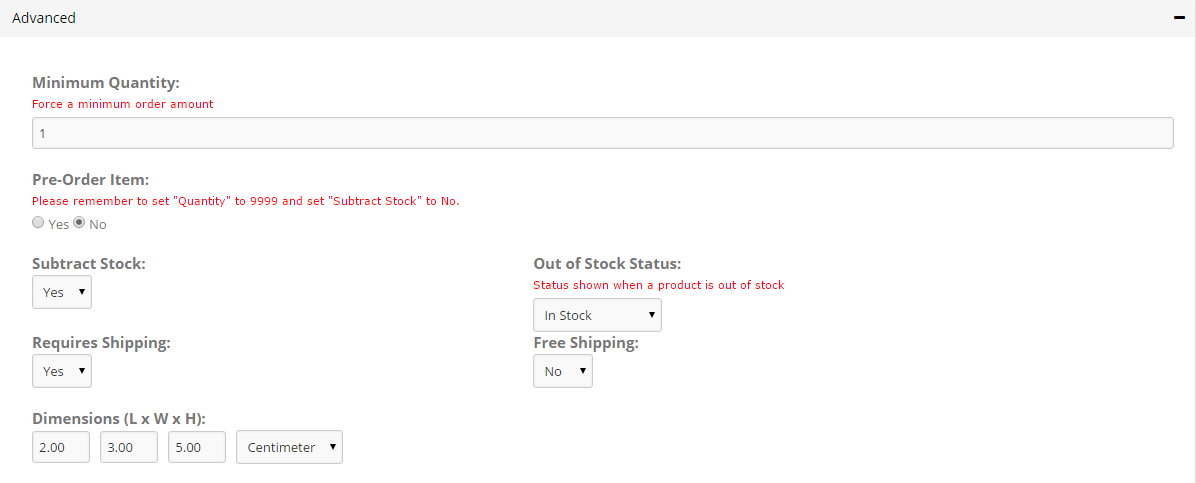 Minimum Quantity: The minimum quantity they need to buy before they can checkout.

Pre-Order Item: Pre-Order Item is used when you do not have product in stock and allow customer to purchase from your website first.

Subtract Stock: Yes is applied to whenever there is a customer purchases from you, system will auto deduct the inventory. No is applied when the product is pre-order and allow customer to purchase first without deduct the stock.

Out of Stock Status: Determine what status to display when product is out of stock.

Requires Shipping: Yes means the product requires shipping.

Free Shipping: Yes means the product offered with free shipping.

Dimensions: You can key in your product width, length, or height.
Related Products
You can select the products that is related with this product, when your customer view this products, they will also saw the related products that you choose.
SEO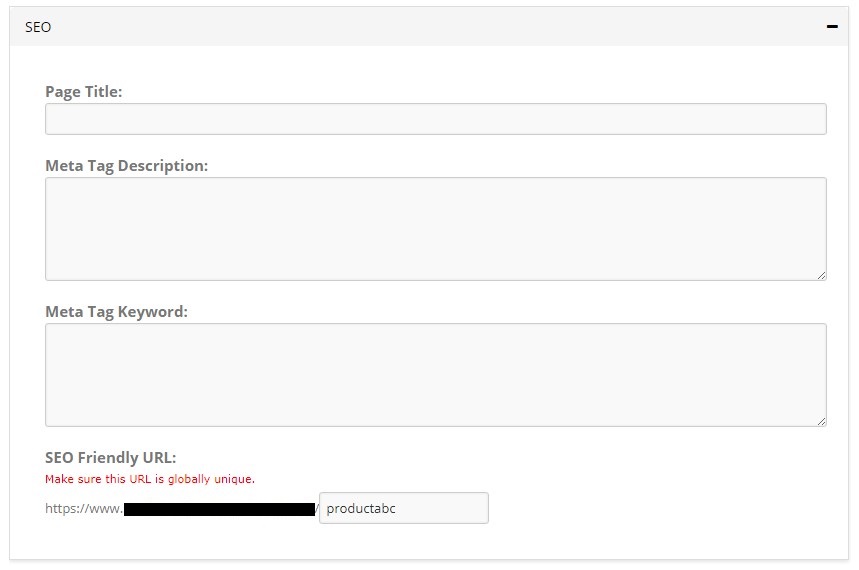 You can do SEO for the particular product. As long as you have done website SEO, product SEO is an additional thing, if you would like to focus on SEO.  However, if you wish to do product SEO and yet your description is filled with image only, you may write a brief introduction of the product here.
After you done the product settings, click Save button to save the changes, click Clear Cache button to have changes on front and click Preview button to check the item on front.
Learn more on how to upload product image.