Access: Marketplaces -> Lazada Sync.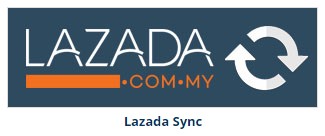 This feature is only available in Unicart Pro Plan and above.
Lazada Sync is used to sync products from Unicart to Lazada MY. Once Unicart products synced to Lazada, Lazada orders and inventory will be auto updated in Unicart.
According to Lazada API requirement, there are many information required to be filled in before you can sync products to Lazada. As they are practicing more accurate and complete information you have about your product, the higher chances of customers will get convinced to buy it. Don't panic and let's go through the steps one by one for Lazada sync.
Lazada Product Creation
Step 1 – Register Lazada Seller Account
You have to register a seller account with Lazada first at http://www.lazada.com.my/sell-on-lazada/?spm=a2o4k.home.0.0.tvdAFM#.
Step 2 – Setup Lazada Integration
Once your Lazada account is created, you have to retrieve your Lazada API key to establish connection between your Unicart account and Lazada account. From your Lazada account, please click your Username, select Manage Users and copy Email and API Key.

Go to your Unicart account, click Marketplaces, Lazada Sync and Settings button, and paste the detail. Order Syncback Remark will be recommended to select Processing, Processed or Completed.

After completed the detail, click Save button to have the changes.
Step 3 – Check & Update Product details
There are some mandatory product details in Unicart for Lazada sync. Please go to Products, click the Product and check if you have filled in the data accordingly.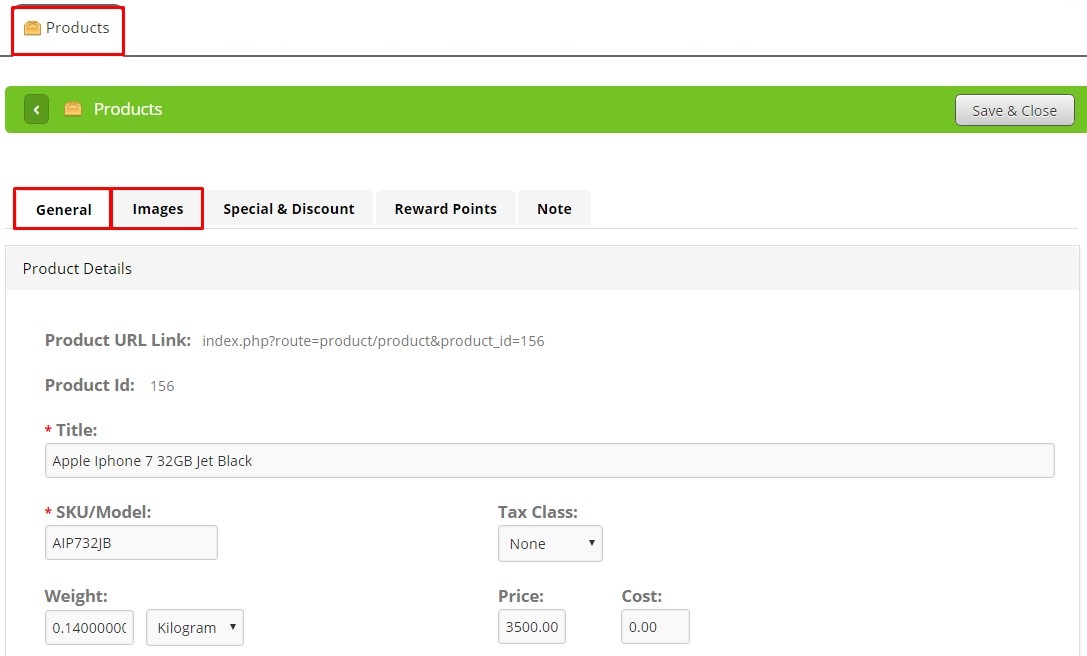 1. Weight
2. Image
– 2 to 8 images per product.
– Dimension (width x height) between 600px and 900px.
– Size with below 300KB.
– Image name is recommended to exclude capital letter, spacing and special symbol except only hyphen(-) and underscroce(_). Example of image name is "this_is_a_good_image_name.jpg" and not "this is not a good image name.jpg".
3. Hightlight
– To list the selling points of your product.
– Must use Bullet Points.
– Must at least 3 points and maximum 8 points.
For example:
• 1080p LED Display
• 3GB of RAM
• 64GB of ROM storage
4. What's in the box
– To list the item(s) customers expect to receive.
For example:
1 x Battery
1 x Phone
5. Quantity
– If you have generated multiple option values, you have to indicate how many quantity you have for each of the option value. Then, the Main quantity would be the sum of all option quantity.
For example, you have 3 sizes as option values.
2 quantity for S size
3 quantity for M size
5 quantity for L size
Then, your main quantity would be 10.
6. Subtrack Stock: Yes
7. Dimensions (L x W x H)
Step 4 – Setup Lazada Product Settings
After you have confirmed Lazada mandatory fields in Unicart Products, let's go back to Marketplaces -> Lazada Sync to proceed Lazada Products Settings. Lazada Category, Brand, Warranty Type, SKU & Image are required to fill in before you can sync your products to Lazada.
Lazada Category & Warranty*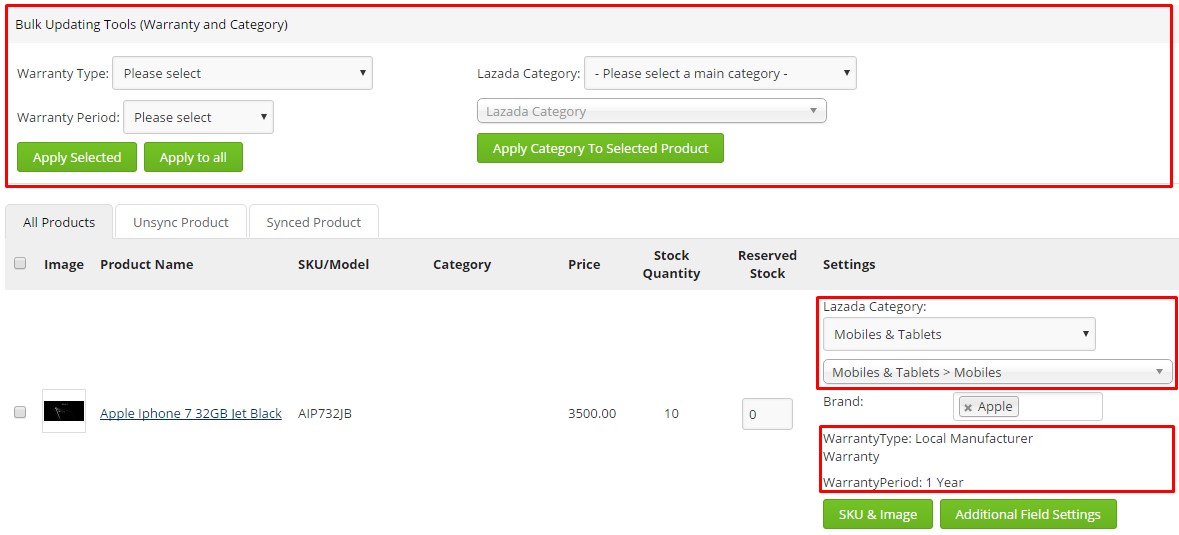 Lazada Category is used to apply the category of the product you wish to list on Lazada. Warranty Type and Period is the warranty service offered for the product. You can either use Bulk Updating Tools or fill in the details one by one.
SKU & Image*

Click SKU & Image button, select the SKU attributes that match to your product and click Generate Combination button. Please note that different Lazada category selected will lead to different SKU attributes listed.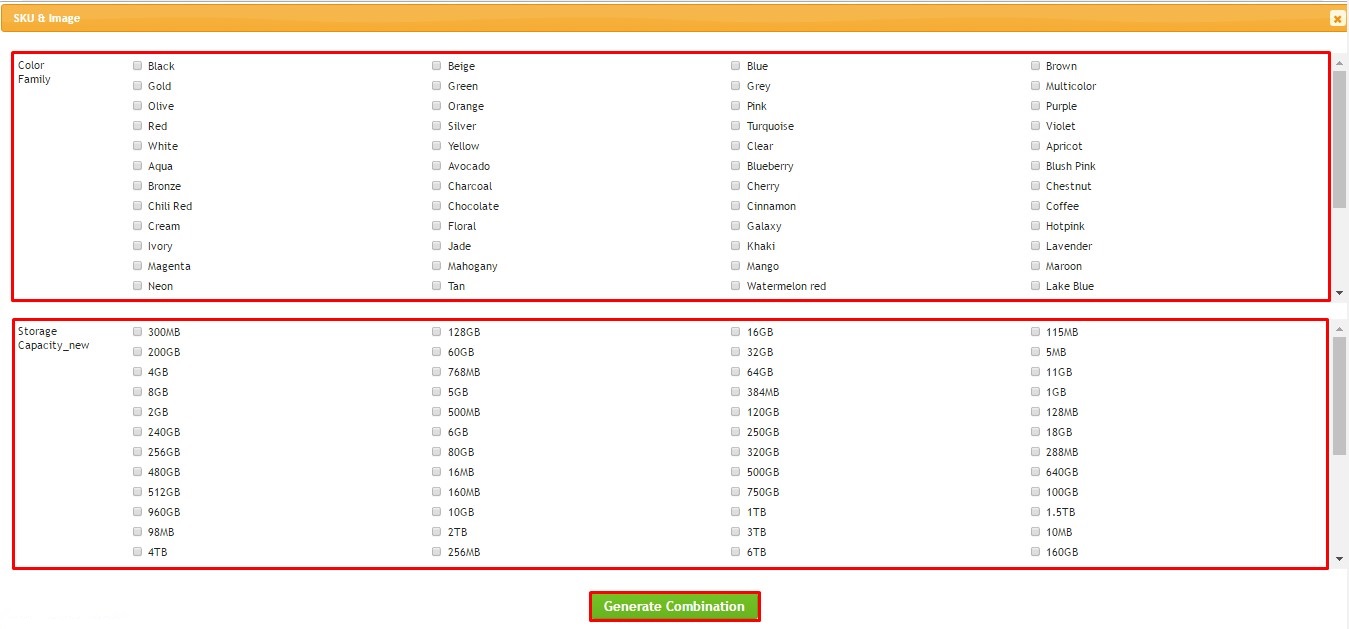 Click the image to enlarge
Then, click the generated SKU and check the details. If you have performed step 3 correctly, the product details like What's in the box, Product Weight & Dimensions, Package Weight, Height, Length & Width, SellerSKU, Quantity, Price and Images will be retrieved automatically in SKU & Image button.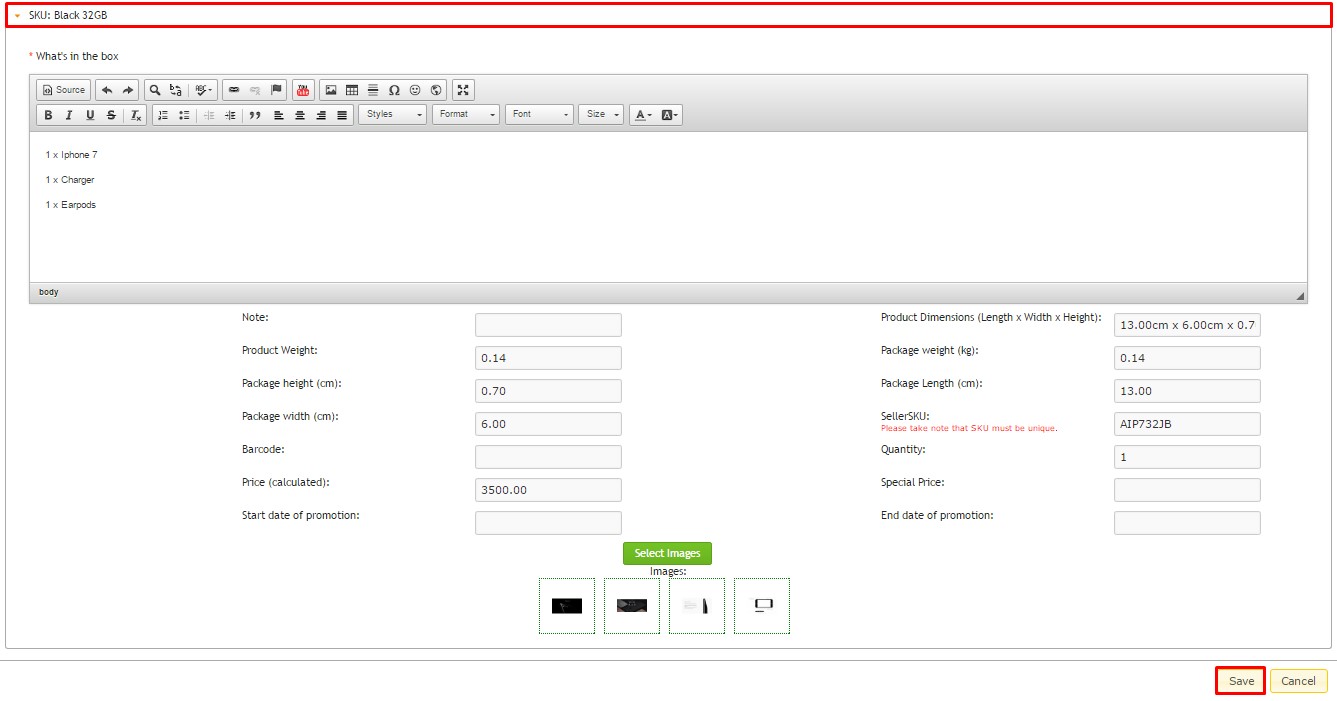 Click the image to enlarge
However, you are free to update information here if you wish to display different information on Lazada.
What's in the box*: The item(s) customers would receive. Example: (quantity) x (item).

Product Weight & Dimensions (Length x Width x Height)*: It required for product information.

Package Weight & Dimensions (Length, Width, Height)*: It needed for shipping calculation by Lazada.

SellerSKU*: It is the SKU ID that would be synced to Lazada. It must be unique for each of the SKU attributes. Please note that Lazada is using SKU to do the product mapping with Unicart for order sync and inventory update purpose. Please ensure Unicart main SKU or option SKU is same with SellerSKU. 

Quantity*: It would be the inventory of the product to sync to Lazada. Please ensure the quantity is available to sell on Lazada before sync.

Price* & Special Price: If you want to run promotion on Lazada, please update original price in Price field and discounted price in Special Price field.

Start Date & End Date of Promotion: Once you have inserted Special Price, promotion duration must be filled in.

Select Images:  It used to sync images to Lazada. If you faced image error after sync, please refer to step 3 point 2 to check and reupload updated image to system from Products -> Click the product -> Images -> Add Image. After that, please reselect the image here to store the updated images and perform resync.
Click Save button to save all the changes after you have made in SKU & Image button.
If you have generated multiple options and multiple SKU attributes, you can match the option from Unicart with the Lazada SKU attribute. Please note that the number of SKU attributes generated will reflect the same on Lazada.

Additional Field Settings
Click Additional Field Settings button to check if there is additional information required by Lazada.

If you would like to sync more information about your product to look more convincing on Lazada, you can always click Add More Fields button and click here to input data accordingly. First column is to input API title and second column is to insert API value.

Please note that additional fields will be listed according to Lazada Category selected.
Brand*
Insert Brand which is available in Lazada. Otherwise, you may enter OEM if your brand is not listed. It will be saved after you click Sync button.

Reserved Stock
Reserved Stock function is used for backup purpose so that you will reserve some stock in the backend and will not sell 100% of your inventory to Lazada to avoid overselling.

For example, you have 10 quantity available for the particular product. If you have inserted 3 reserved stock, which means you are only syncing 7 quantity to Lazada for the particular product. Otherwise, if you leave it zero in Reserved Stock field, and perform syncing, there will be nothing to deduct from reserved stock and sync 100% of your inventory to Lazada which is 10 quantity.
Step 5 – Sync Product to Lazada
Once you have filled in the details and ready to sync to Lazada, you can just select the item and click Sync button.

Click the image to enlarge
After that, it will show the success sync status.

The synced product will have quality check (QC) by Lazada team and fall into "Pending" queue on Lazada Seller Center.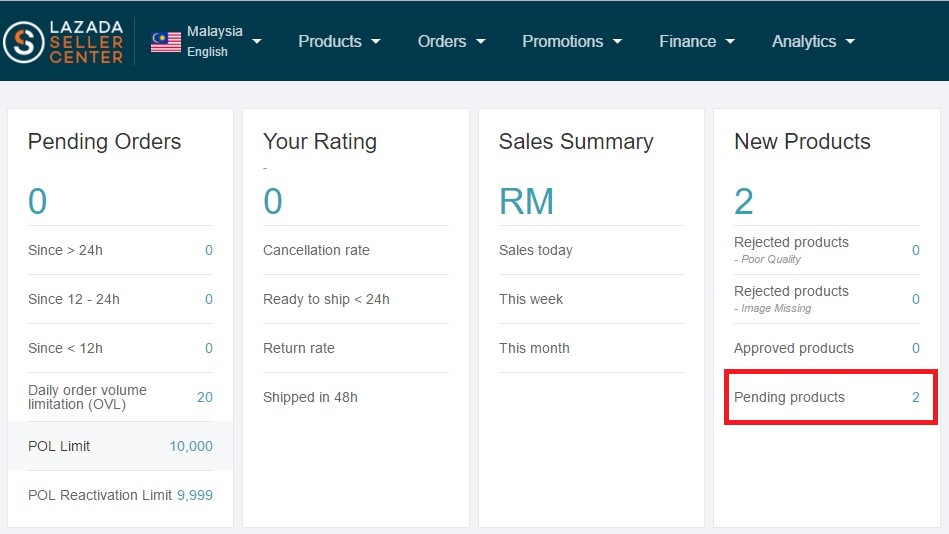 When it is approved by Lazada team, it will be published and ready to sell on Lazada.
At the same time, you can track the last sync date and time for those synced products in Unicart.

Click the image to enlarge
Lazada Product Update
If the product has been synced from Unicart to Lazada before, and you would like to resync to update the product details in Lazada, below are the details will be updated to Lazada.
Certain information in Product Page
– Title (Product Name)
– Product Description
– Highlight
All the information in Lazada Sync Page
– Lazada Category
– Brand
– Warranty Type & Period
– SKU & Image
– Additional Field Settings
– Reserved Stock
If you just want to update Price and Quantity, please perform in SKU & Image at Lazada Sync Page and resync.