Access: Marketplaces -> Logon Sync.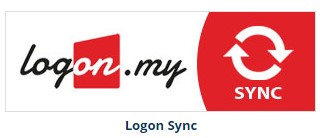 This feature is only available in Unicart Pro Plan and above.
Please note that this Logon sync is built for syncing product only.
Logon Product Creation
Step 1 – Register Logon Seller Account
You have to register a seller account with Logon first at http://www.logon.my/merchant/signup/business_seller.
Step 2 – Create Warehouse on Logon
You have to create a Warehouse from your Logon account. Once your Logon account is approved, please access into your Logon account and look for Settings, Warehouses and Add New Warehouse.

Step 3 – Setup Logon Integration
Then, you have to retrieve your Logon API key to establish connection between your Unicart account and Logon account. From your Logon account, please go to Settings and API Key.


After you generate new API, please copy User ID and API Key.

Go to your Unicart account, click Marketplaces, Logon Sync and Settings button, and paste the detail.
If your User ID has less than 4 digits, please add 0 in front of your User ID to have 4 digits in Unicart's Logon Settings. For example, your User ID is 321, insert 0321 in Logon User ID field.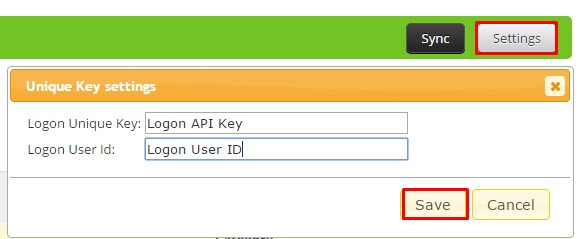 Once you configured integration settings correctly, it will be able to list Logon Categories and Warehouse from Unicart.
Step 4 – Setup Logon Product Settings
Logon Product details required to fill up before you can sync your products to Logon. You can either use Bulk Logon Product Setting or fill up details one by one.

Category, Warehouse, Tax Class and Shipment & Delivery are required to fill up before syncing as these are the mandatory data for Logon product creation.
If your item have more than 3 images in Unicart, please use Custom Image and select 3 attractive images only.
If you want to sell with a different price from your Unicart store, you can use Custom Pricing to set original price and discounted price.
Brand of the product will be auto synced based on the Manufacturer defined in Unicart.  If you have synced a product with no Manufacturer selected in Unicart, the brand field in Logon will be empty.
Step 5 – Sync Product to Logon
Now you can perform syncing products to Logon.
Once you have filled up the detail and you are ready to sync to Logon, you can just select the item and click Sync button.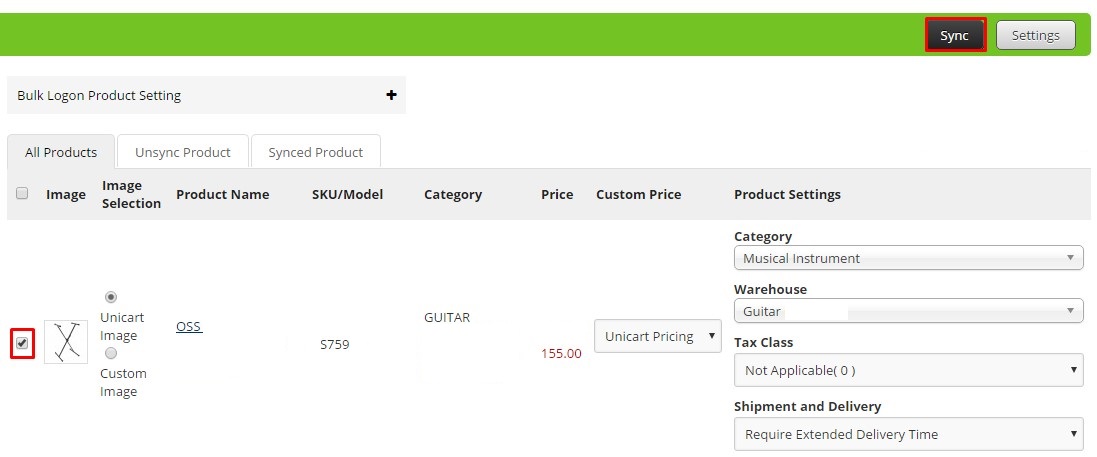 After that, you will see the syncing status that returned by Logon.

If the syncing status is success, it means that the product is successfully synced to your Logon account. You may login to your Logon account, look for Products and All Products, select your Warehouse and search, then you will see the synced product that waiting for approval by Logon team.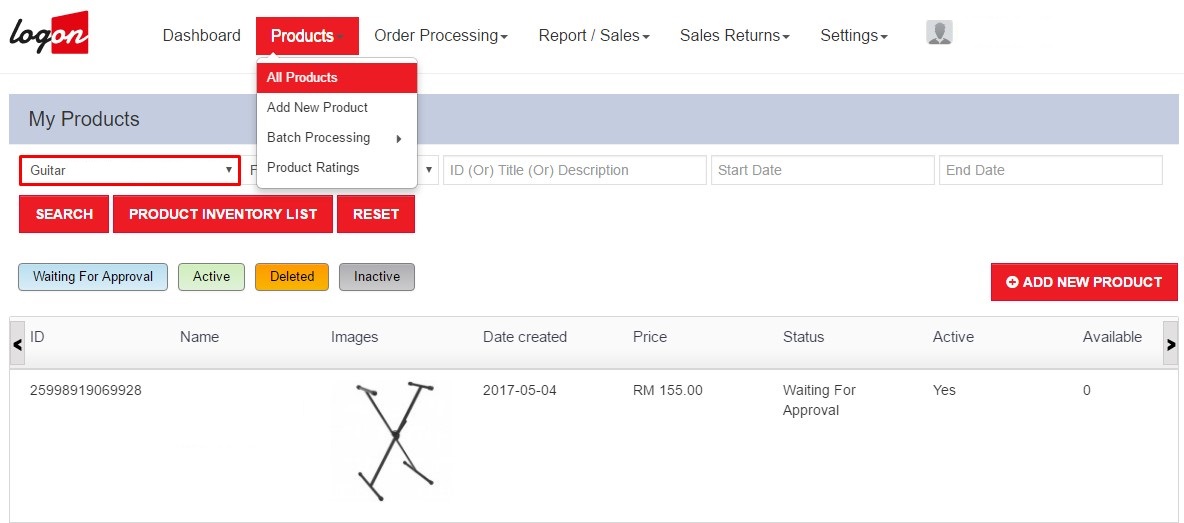 Once your synced product has been approved by Logon team, the status will show Approved and live in Logon front.
Logon Product Update
If the product has been synced from Unicart to Logon, and you would like to resync to update the product detail in Logon, below are the details that can be updated to Logon only.
Product name
Product price
Brand / Manufacturer
Inventory
Product description
Logon category of the product
Product option
Product image
If you wish to update other information like Warehouse, Tax Class and etc, you have to perform on your Logon account, according to Logon API requirement.
*Based on Logon API requirement, they only allows maximum 5 items per sync and 3 images per item.