Access: Facebook -> Facebook Messenger Bot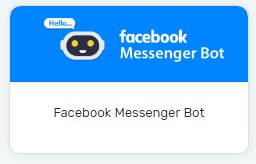 Facebook Messenger Bot is designed to auto reply to Facebook users from Facebook Messenger based on the keyword configured that matches with Facebook users entered. It helps you to stay in touch with your customers or Facebook users even when you are not available.
Please note that it can only be used after integrated with Facebook Store V2.
Step 1 – Setup Facebook Messenger Bot Setting

Greeting Message will be shown the first time users interact with Facebook Fan Page Messenger. It has a 160 characters limit.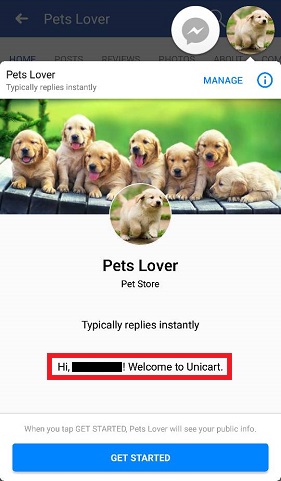 Welcome Message will be shown the first time right after users clicked GET STARTED button to get in touch with you on Messenger.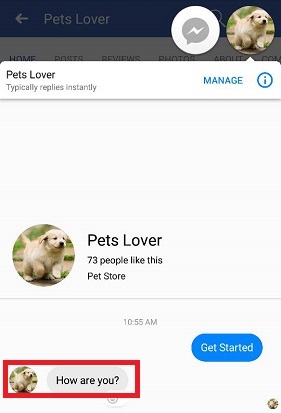 Step 2 – Setup Default Message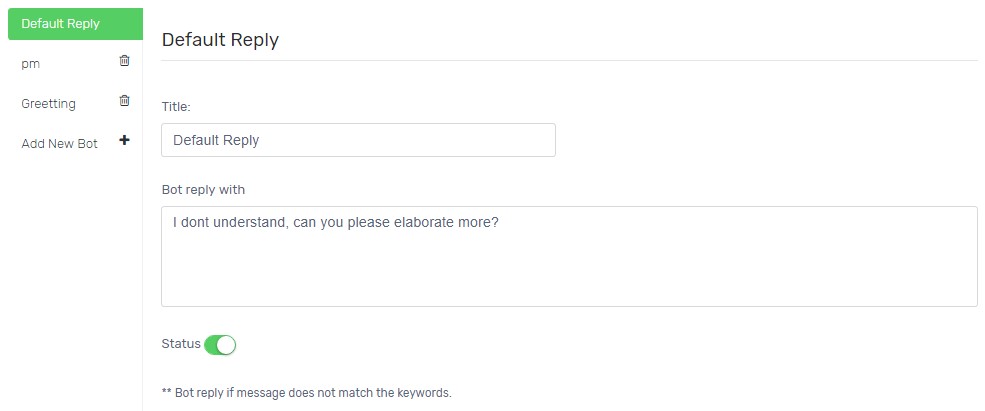 Default Reply is used if Facebook users message does not match with the keywords configured.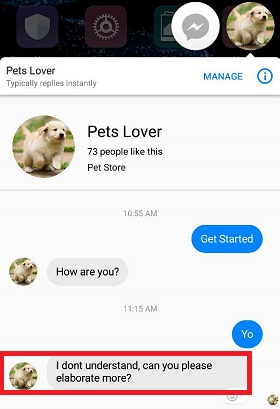 Step 3 – Setup Bot
Setup a new bot to match the keywords and reply accordingly.

Title: The Bot Name

If user says: Enter the keywords Facebook users would probably enter or search. Put comma "," to enter new keyword up to 10 keywords.

Bot reply if message contains these keywords: Enable if you want bot to auto reply when message contains these keywords. Disable if you want bot to only respond  to exact these keywords.

For example: Keyword is "Hi" and User enters "Hi I want to know more about it".
If it is enable, bot will find the keyword Hi and reply accordingly.
If it is disable, bot will not find the exact keyword Hi and respond with Default Reply.

Bot reply with: The message bot will reply when meet the keywords.

Status: Enabled to live this bot.
You can create up to 10 bots and 10 keywords for each bot.

Step 4 – Save changes
Once you have completed all the steps, please click Save button on top.

Here is the outcome based on the bot configured above, from Facebook user's point of view.