E-Wallet is now a growing trend in Malaysia. They are quick and easy, whereby they allow people to make payments with a single tap. Unicart is now able to set up with the most popular e-Wallets in Malaysia. Get yourself an e-Wallet merchant account and start applying it in the Unicart webstore.
Let's take a look on steps for setting up of GrabPay, Touch 'n Go eWallet, WeChat Pay, AliPay, FavePay, Maybank QR Pay and DuitNow QR Pay in Unicart.
1. Navigate to Settings from Unicart Admin Panel, hence choose Payment.
2. Then, click on the "Add Payment" button.

3. Choose the e-Wallet Payment Method that you wish to set up.
i. GrabPay

ii. Touch 'n Go eWallet

iii. WeChat Pay

iv. AliPay

v. FavePay

vi. Maybank QR Pay

v. DuitNow QR Pay

4. Enable the Status and fill up the details of the e-Wallet payment method.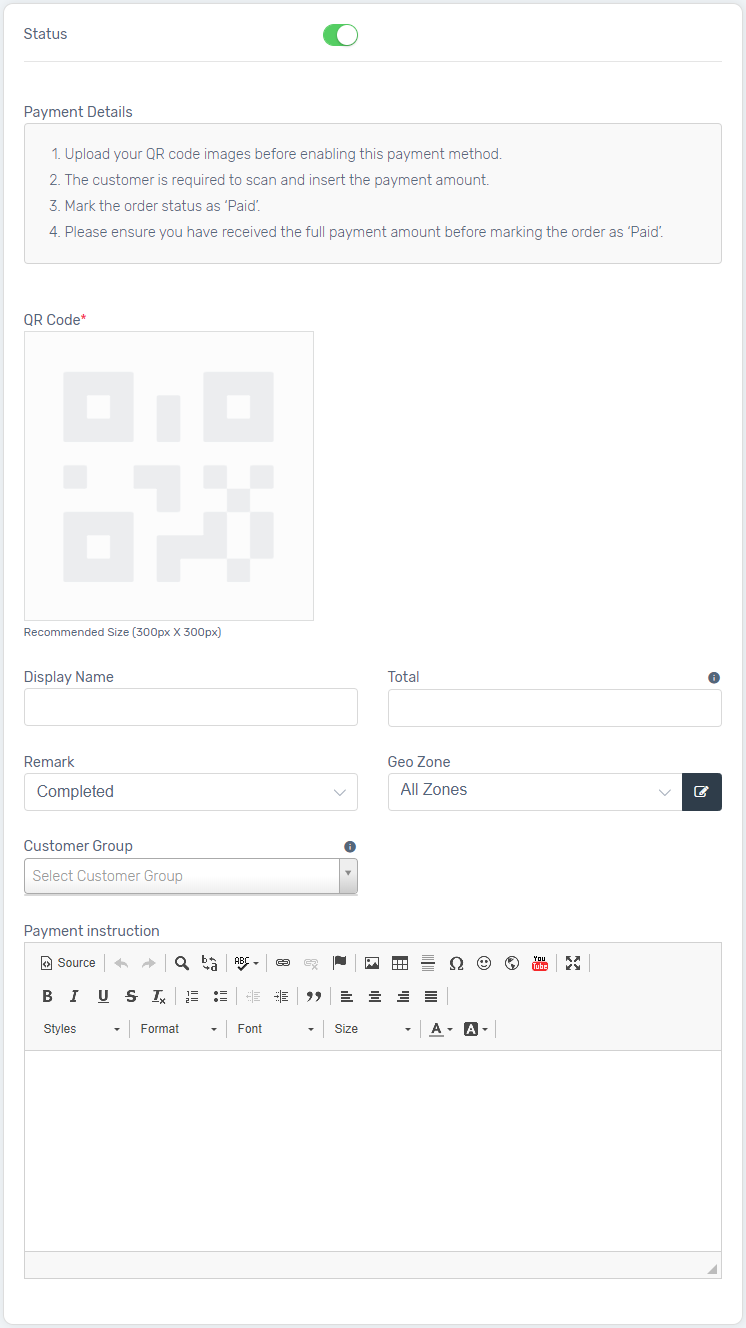 QR Code*: Upload the QR code image of your e-Wallet payment method. The recommended Size is 300px x  300px.

Display Name: The payment name to display during checkout process in Payment Method Step.

Total: The total amount of money must be reached before this payment method can be used.

Remark: The remark of the orders, recommended to choose as Completed or Processing.

Geo Zone: The customer location that can use e-Wallet payments.

Customer Group: The Customer Group that entitled for this payment method. Leave it blank if you apply to all customers.

Payment Instruction: Additional payment instruction which need to inform customer.
5. Next, click on Save or Install button once the information had done filled up.
6. When customer checkout the shopping cart, the e-Wallet payment method will be available in the Payment Method steps.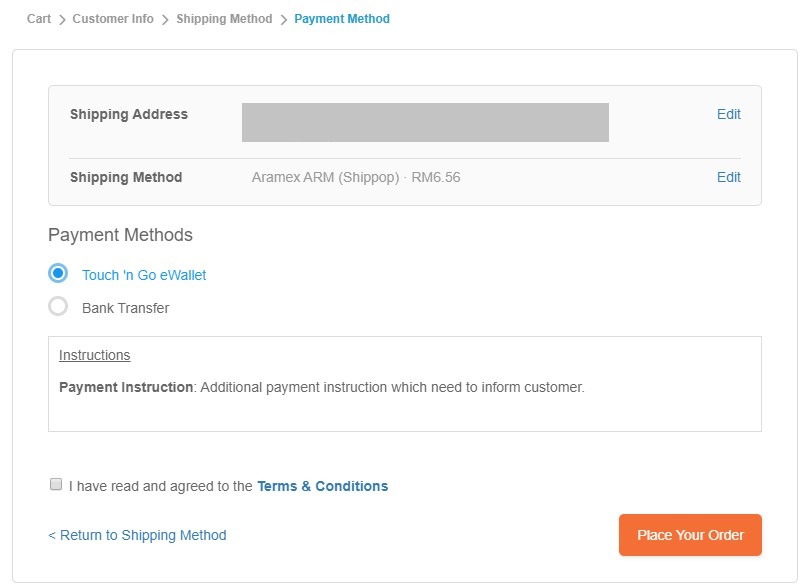 7. Once the customer placed the order, the e-Wallet QR Code will be displayed for the customer to scan in order to make payment. Thus, the customer can choose upload the receipt immediately or continue to shop.