Access: Customers > Import or Export

Import
Step 1 : Produce a well formatted data in CSV file.
In order to import according to our format, download a sample by clicking "Sample CSV" button.

Open the file via Open Office. Ensure the setting is correct especially Character Set, Separator Options and Text Delimeter. Click OK.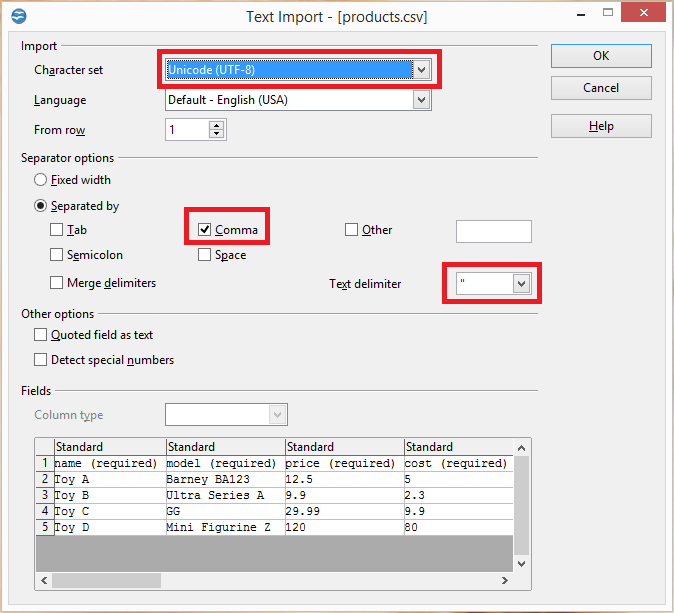 If the email address is already exists in the database, this record will update the details to that particular customer.
| Column | Description | Sample Data |
| --- | --- | --- |
|  first_name |  First name of the customer |  Ali |
|  last_name |  Last name of the customer |  Mohd Hassan |
|  email |  Valid email address |  ali@email.com |
|  telephone |  Valid contact number |  0123456789 |
|  fax |  Valid fax number |  031234567 |
|  company |  Company Name |  ABC Company |
|  company id |  Company Registration ID |  12345-M |
|  address_1 |  Customer current address |  123, Jalan Fettes |
|  address_2 |  Alternative address |  456, Lorong Fettes |
|  city |  City of the address |  Tanjong Bungah |
|  country |  Country of the address |  Malaysia |
|  postcode |  Postcode of the address |  12345 |
|  state |  State of the address |  Pulau Pinang |
Column with peach color background are mandatory fields, each mandatory field must not be empty.
Save the CSV and click "Keep Current Format" button then close Open Office.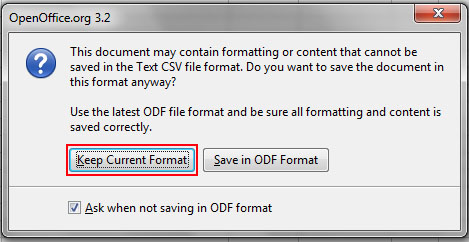 Step 2 : Import the CSV into Unicart System.
Click "Choose File" button and select the complete CSV file. Then click "Next" button at the top right corner to proceed.

From the screen, you are able to preview your data inserted with a few possibilities.
Note:

1) Columns with error will be skipped, that particular customer will not be added nor update.

2) Columns with warning will be imported but the particular warning field will be replaced with default value according to the rules.
Check the previewed data uploaded and the number of success customers shown above. If you wish to upload another batch of CSV, click "Reupload CSV" button at the top right corner. Otherwise, you had successfully imported our customer into Unicart system.

---
Export
Upon clicking "Export" button, a small window pops up with 2 selection:
1) Export All Customers – Export all customers into the CSV regardless of any filter conditions.
2) Export Only These XX Matches – Export only specific customers according to filter conditions.
Click "Export" button to download the CSV file.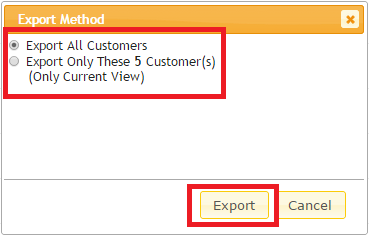 In order to use the 2nd selection, you will need to first filter the customers with a certain condition to export. The filter is located at the left of the page.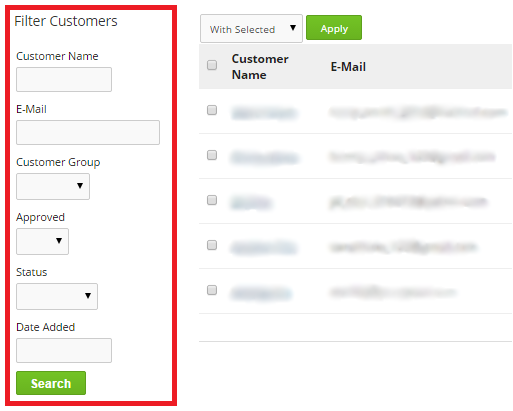 ---
What is Open Office? How to download?
Open Office is an open source software which mainly use to open and view CSV file in our system.