Access: Marketplaces -> Shopee Sync
This feature is only available in Unicart Pro Plus Plan and above.
Shopee Sync is used to sync products from Unicart to Shopee MY. Once Unicart products synced to Shopee, Shopee orders and inventory will be auto updated in Unicart.
Shopee Product Creation
Step 1 – Register Shopee Account
You have to sign up for a Shopee account from their website.
Step 2 – Request API Key from Shopee
Go to Unicart Admin Panel, Marketplaces, Shopee Sync and click Get API Key button.

Click the link to fill in your Shopee detail in order to process your API detail request. Once your request is approved, you will receive API update from Shopee team. After that, you will login as Shopee Seller account.
Step 3 – Setup Shopee Integration
Once you received your API Key details, please copy and perform Shopee API Credentials Linkage steps below via Shopee seller center for security purpose.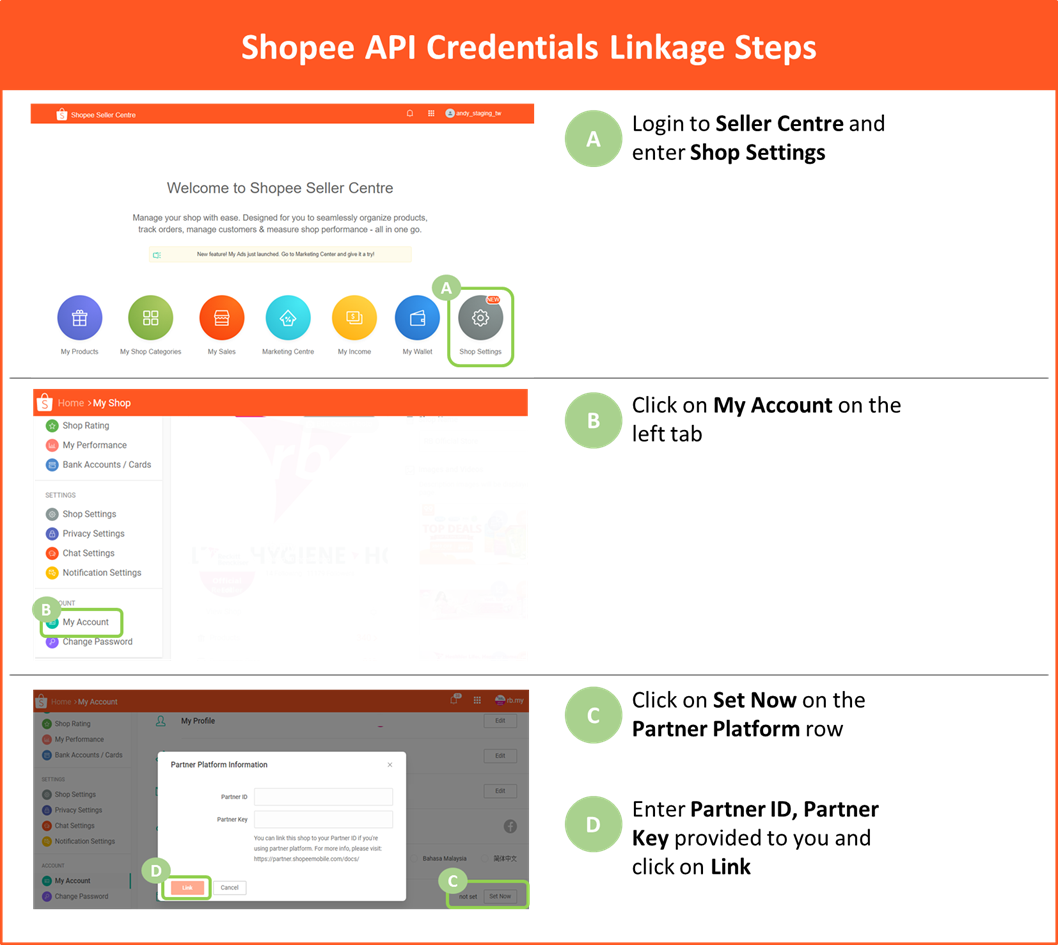 Please note that Partner Key is to insert the Secret Key given.
Then, go back to Unicart, Marketplaces, Shopee Sync, paste the given API details at Settings button to establish connection between your Unicart account and Shopee account.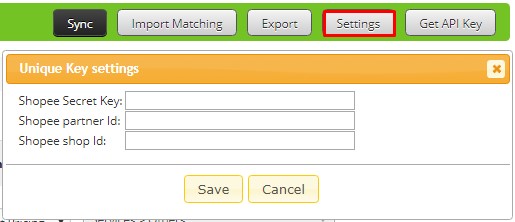 Once you configured integration settings correctly, it will be able to list Shopee Categories from Unicart.
Step 4 – Setup Shopee Product Settings
Select Shopee Category of the product and click Additional Field Settings button to fill in Shopee product details.

Additional Field Settings
This is to fill in the information of your product for Shopee use. The more accurate of your product, the higher chances of your item can be listed on Shopee front, the higher rate to get it sold.
Items Description

Unicart will auto retrieve text description that you filled in from individual product. However, Shopee only supports text up to 3000 characters. Thus, if you have inserted only images in description from individual product previously, please fill in a brief introduction of your product in this column.
Attributes
Attribute is the characteristic of your product to get searched easily by Shopee customers. Different Shopee category will have different attributes generated.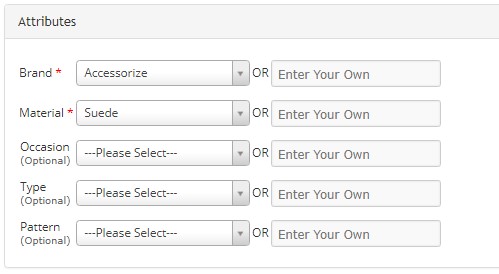 Those attributes with * are required to fill in. You can create your own value if the listed values did not meet your requirement. Optional Attribute is not a must and you may sync without value by remaining "—Please Select—".
Shipping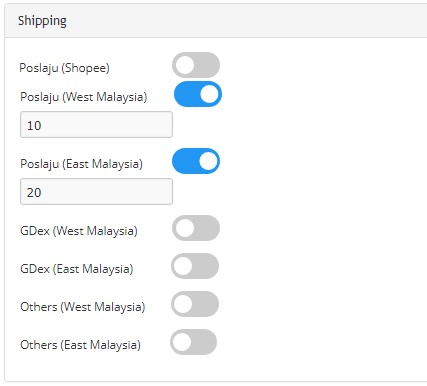 Shopee is using Flat Rate as the calculation of shipping fee. Thus, you have to set the shipping fee for each of the synced item. If you have associated with Shopee for special Pos Laju rate, then enable the first option "Poslaju (Shopee)".
Click Save button once you completed the Shopee product details.
You may use Custom Image to sync up to 9 images only. If you want to sell with different price from your Unicart store, you can use Custom Pricing to set original price and discounted price.

Step 5 – Sync product to Shopee
After you have filled up the detail and you are ready to sync to Shopee, select the item and click Sync button.

After that, you will see the syncing status that returned by Shopee.

When you see Create: Success status, it means the product is successfully synced and created as a new product on Shopee. You may login to your Shopee seller account, My Products to check.
Please note that your product will be reviewed by Shopee team and they have right to ban your product from listing on Shopee front if they found it inappropriate. 
At the same time, the last sync time will be recorded on Unicart.

Based on Shopee API requirement, product options can be synced up to 15 only, if your product contains option values. 
Shopee Product Update
Based on Shopee API requirement, it is able to update Price and Inventory at the moment. If you want to update other product information for the synced item such as Product Description, kindly perform on Shopee end.

When it synced with Update: Success status, which means it updated to Shopee successfully. Please double check from Shopee end.
Import Matching
Import Matching is used to map existing Shopee items with Unicart items. Usually you will use Import Matching when you have created products first on Shopee end without syncing from Unicart. Then, you will need to do Import Matching so that items are mapped between Shopee and Unicart, Shopee orders and inventory of the mapped items can be auto updated in Unicart.
Main Product Matching
Login to your Shopee account -> My Products -> Batch Actions -> Edit Existing Products -> Edit Product Info -> Download to export your Shopee items as CSV file. You will find Product ID from the first column in CSV file. Otherwise, you may find product ID from URL individually on Shopee end.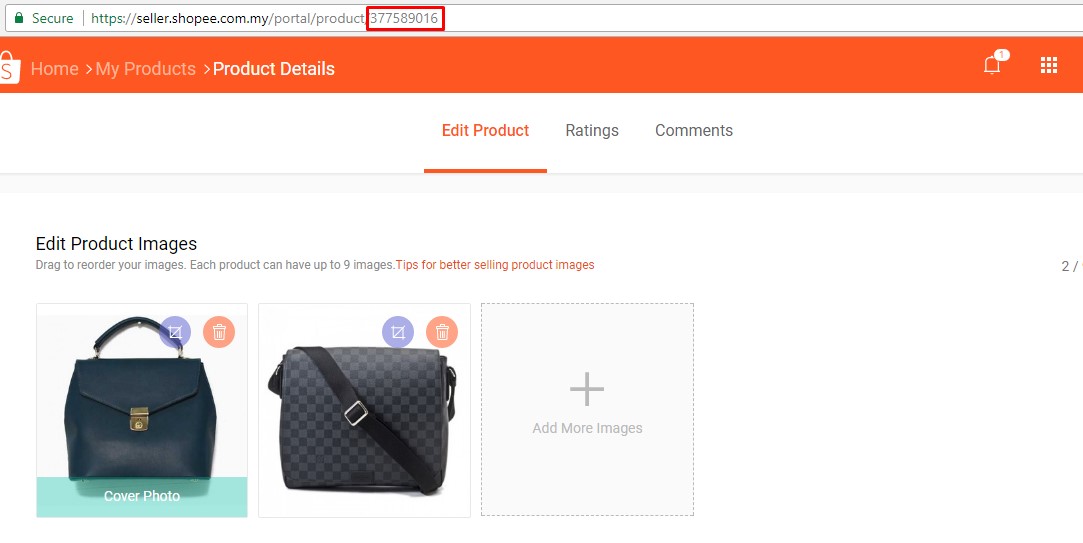 Go to your Unicart account -> Marketplaces -> Shopee Sync -> Export as CSV file, update Shopee Product ID in the CSV file and Import Matching into Unicart.

Product Option Matching
Option Matching is used when you provide variations of the mapped product between Unicart and Shopee. As long as Option Name and Option SKU are same on both Unicart and Shopee, it will be auto mapped.
One Option Type
In Unicart:

In Shopee:

Multiple Option Types
In Unicart: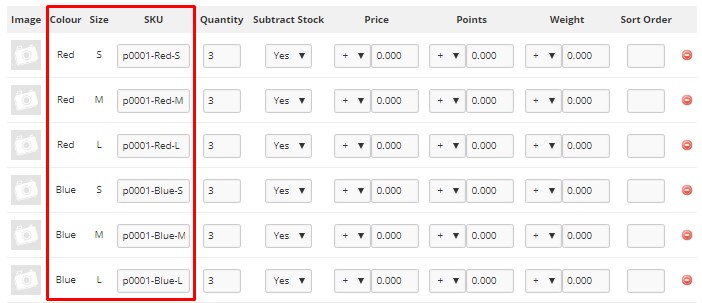 In Shopee: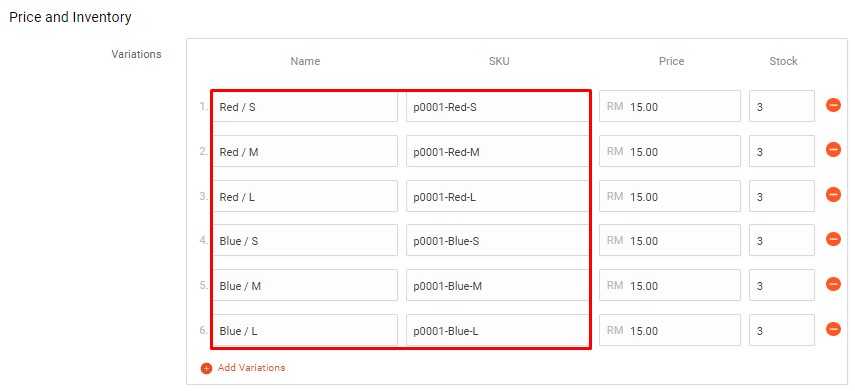 Please ensure that Option Name is inserted with / as divider of multiple option types.