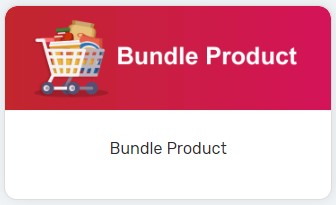 Selling your product in bundle so that your product is standing out in this competitive marketplace? In such a way, the sales are increased where you can sell more products in a single order. But, it would also brings your another concerns that you have to manually update the inventory for each of the products in the bundle.
Bundle Product features is now launched to help you to minimize the tasks. With the settings of Bundle Product in Unicart, you do not need to manually deduct the product quantity one by one when the bundle product is purchased.
This feature is only available in Unicart Business Deluxe Plus Plan and above.
1. Navigate to Marketplaces from Unicart Admin Panel, and choose Bundle Product.
2. Click on the "Add Bundle Product" button.

3. Choose the Main Product which is selling in Bundle Product. Then, insert the individual products into the Bind Product. Please remind to key in the quantity for each of the individual products.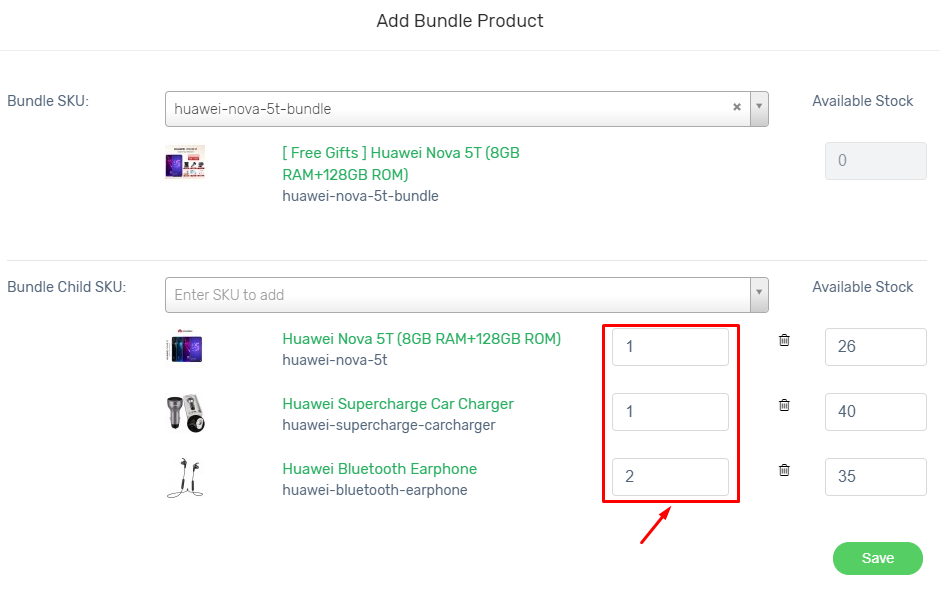 For Example:
The product [ Free Gifts ] Huawei Nova 5T (8GB RAM+128GB ROM) is included with:
× 1 Huawei Nova 5T (8GB RAM+128GB ROM)
× 1 Huawei Supercharge Car Charger
× 2 Huawei Bluetooth Earphone
Note: The products must be synced to Marketplaces. Moreover, the product with variant options will need to set with the product variant SKU.
4. Click on the "Save" button to apply the bundle product, so that all products in the bundle product set will be automatically updated when the Main Product is purchased in marketplaces.
5. Tick on the product, and click "Recalculate Stock" button, to get the latest available stock for the main product. Hence, please remind to sync the latest inventory to marketplaces via Marketplace Inventory Management each time you did a manual restock.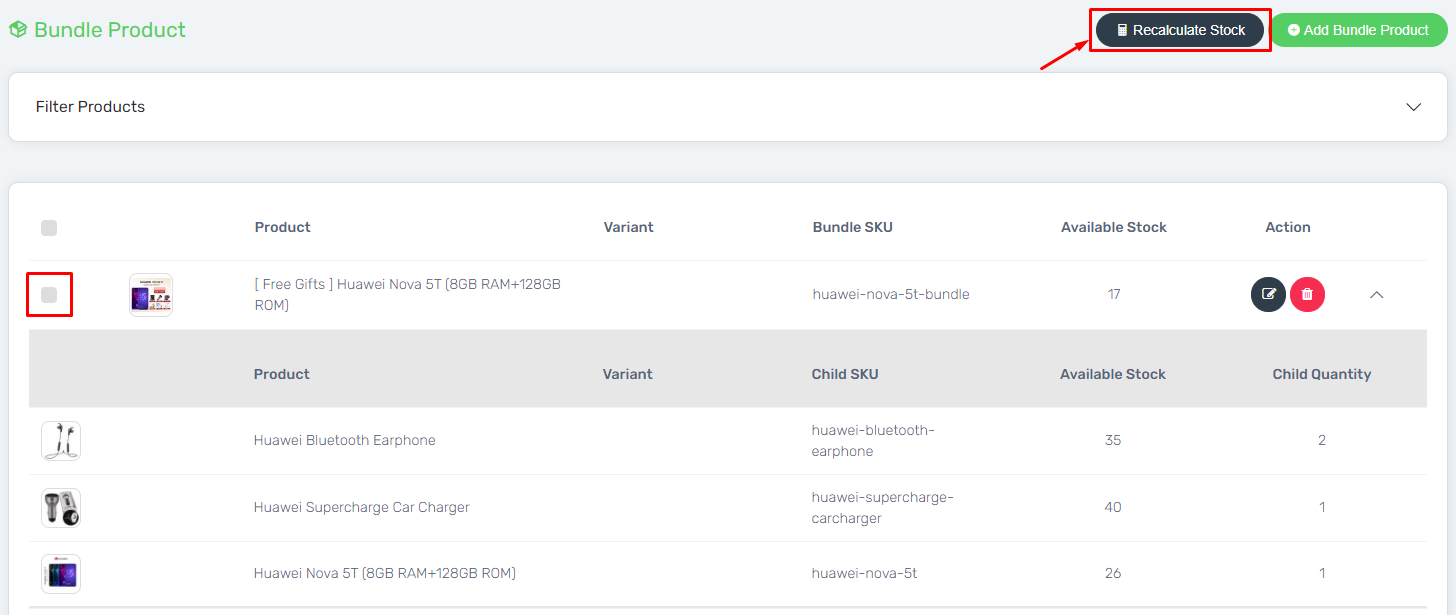 6. Now, you have done the Bundle Product set up. Kindly refer to the diagram below to understand more on the flows for inventory update.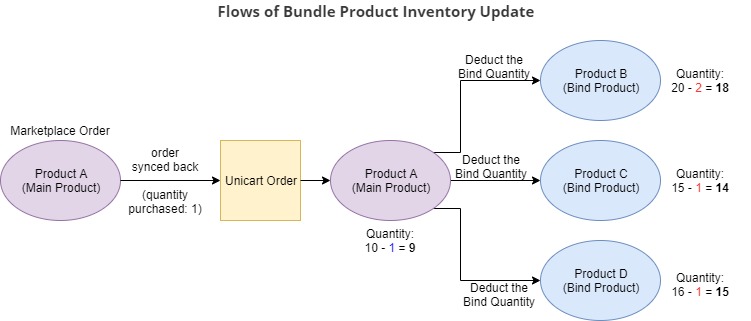 The inventory update will be based on the Bind Quantity in the bundle. Furthermore, kindly make sure that the Main Product's quantity of the bundle product is lesser than the individual Bind Product. So that, your individual Bind Product would not be overselling and able to cater for the Main Product.
Other than that, the system will automatically calculate & update the sell-able quantity for the Main Product, when there is order purchased from marketplaces.
7. Edit or Delete the Bundle Product. (Optional)
| | |
| --- | --- |
| Edit | |
| Delete | |
Just a kindly reminder. If the product already set in Bundle Product, then this product is not recommended to set in Multi-listing Product.